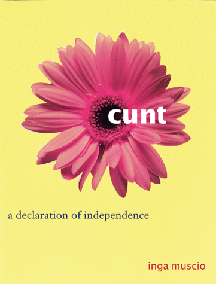 A classmate in my guitar class at Santa Monica Community College handed me the book. She told me that she thought it was the perfect book for me. I looked down at the little book in my hand. It was yellow, with a pink daisy on the cover. The title read, Cunt. A Statement of Independence. The author is Ingia Muscio, not anyone that I had ever heard of.
"Cunt?" I looked up at her curiously, "Really? This made you think of me?"
"You're gonna love it." She smiled into my eyes and walked out of the classroom. I looked back down at the book and wondered if she was hitting on me.
I flipped the book open to a page towards the beginning. It said, "Cunt is related to words from India, China, Ireland, Rome and Egypt. Such words were either titles of respect for women, priestesses and witches, or derivatives of the names of various goddesses."(17). My immediate response was not of offense, but of awakening curiosity. I had always been interested in words since I found out that the root of the word, Lucifer, which is the name of the Christian devil, really meant, "bringer of light." How could the name of the Lord of darkness mean bringer of light? Now I looked at this book and the same spark of curiosity ignited in my brain. How did empowering words for women evolve into the single most degrading word one can call a woman today? How did a word that denoted a degree of such respect as to be derived from the names of Goddesses, come to be profane? Why did a word that referred to a woman's body part become the worst insult ever, anyway? Little did I know that this pink and yellow paper rectangle in my hand would awaken me to gender oppression, and incite me to empower myself and other women, something that I am so passionate about today, that I have become a women 's studies major in college. I did not realize before reading this book that language carries with it so much power. I did not know how language has the power to shape culture. I did not know that dominant groups in society use language to oppress others. However, my most important realization was that I cared a lot about how language affects me, my daughter, and other women.
After I read this book I began to look up words in the dictionary to find their roots. Most dictionaries don't have the word, cunt, but they do have the word vagina. In Cunt, Muscio writes that the root comes from words that mean priestess. When I looked up vagina, I was astonished to find that the latin root meant, sheath to a sword. I had to laugh but then I began to feel angry. Who decided that a woman's body was created to be an ejaculatory capsule for a man's sword? How could the men who have been in charge of shaping language for centuries ignore the simple fact that new generations of the human race are delivered solely through that specific space in a woman? A sheath cannot bring new life into the world. A sheath carries no mystery, no cycle, no power, and no respect. A sheath can only hold a sword. How offensive that the word that denotes respect for women becomes profanity, while the denigrating title becomes the accepted term. I was beginning to want to run out of the house and shout, "I love my cunt!", or high five women in the street and tell them what beautiful cunts they are. I thought about how language affects me. How I'm reluctant to tell people that I'm a single mother, how I felt incomplete and like a failure for not making my marriage work. How the word, woman, denoted a specific role and destiny for me, and that destiny had to do with finding and making happy a man in my life.
Later I read an article from the book, Rape, Sex, Violence, History, and discovered how dangerous this definition of vagina was to women. In the late 1800's, it was believed that a woman could not be raped. This was due to the, "vibrating sheath" (24). myth. Some crusty, old man had decided that women could vibrate their vagina in such a way as to render it impossible to penetrate. It was considered impossible to insert a sword into a sheath if it was moving around, and this was translated into the belief that if a woman claimed to be sexually assaulted she was lying, because if she really did not want it, she could have simply vibrated her sheath.
I realized then that this one word illustrates the general ideology that women exist only to please men. I began to see in my daily observations of human interaction how both men and women contribute to the perpetuation of this ideal. The language that I had been using in my daily life needed to be examined. All words became subject to my growing suspicion that our language was indeed androcentric, or centered around men, and that this served to oppress women throughout history and in modern day. Why is history, history, anyway? Could this be why the stories that have been passed down from generation to generation in this country are stories about men and their conquests? Was there a herstory? Are the stories and accomplishments of women rendered inconsequential and invisible?
Why are men just men, or male, antonymous and independent? We are women or female, words whose roots mean "of men" or "from men". I haven't seen any men birthing any babies, so how are women from men? The race of people on this Earth is currently referred to as mankind or human. There is no word that illustrates the contribution that women have made in this world. None at all. I began to reexamine words used to insult men and found out that they were actually insults against women. The word bastard or son of a bitch are both words to describe a man who is a bad person, or a mean person, yet they are both insults against that man's mother. This implies that the mother is the reason behind the man's personality flaws. I wondered if insults like this reflect the general idea that being a single mother is bad, which may be why my cousins are always trying to reassure me that I'll find another guy. It never occurs to them that maybe another guy is not something I want.
In the American Heritage dictionary, I looked up the word, mensus, another word centered around men, used to describe a biological process that is purely female. The definition said that the mensus is debris that is ejected out of a woman's vagina. This reminds me of the attitude that boys would take towards a woman's cycle, a very immature attitude. I remembered my first menstrual cycle; I was 13, on a class trip in New York City. I remember locking myself in the bathroom, reading the directions off of a tampon box, terrified that the curious and snickering boys in my class would find out my terrible secret. In a society where people didn't define this process as a bloody mess of trash leaking out of my body, maybe my experience, and the experience of many other girls, could have been much better. Yet again, I had found another example of how language had intimately and profoundly affected my own life.
As a child, I often heard the rhyme, "Sticks and stones may break my bones, but words will never hurt me." In actuality, I learned, and continue to still learn, how words actually contain the power to shape society and our own personal lives. Words can even be used as weapons, covertly used by dominant groups in society to divide and label people for their own benefit. Other groups are stigmatized and marginalized because of this, and women are not the only victims. Racism, sexism, classism, heterosexual privilege, ableism, and ageism are the dark and bloody waters of which many of the words we wield so casually today were born from. It was not until I picked up that little yellow book with the pink daisy on it that I was awakened to this, and to myself. Today I am a gender and women's studies major, with a passion for deconstructing these notions and reshaping language to represent and empower everyone. I carry that little book with me, and one day I am going to hand it to another woman, smile into her eyes, and say, "You know, I saw you and I think this book would be perfect for you…"